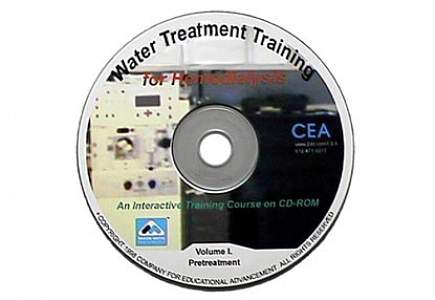 Water Treatment Training for Hemodialysis on Multi-Media CD-ROMs
This complete course is contained on four CD-ROMs. Each of the four volumes offers a total learning experience using the latest high technology multi-media presentation techniques. Systematic and logical progression through each topic and each CD volume, along with encyclopedic detail, guarantees a short learning curve and a comprehensive understanding of all aspects of water treatment for hemodialysis.
Colorful video and graphic animations.
Interactive exercises. H2O system simulations.
High quality audio output with options.
Topic / word search and printable text files.
Keyword / outline links. Find information easily.
Final examination with completion certificate.
H2OCDVI-A
Pretreatment

H2OCDVII-A
Reverse Osmosis

H2OCDVIII-A
RO Maintenance

H2OCDVIV-A
Post-Treatment