RPC was founded in 1991 by Vern Taaffe and Michael Honstein as a company specializing in dialyzer reprocessing. RPC merged with Rabrenco Scientific in 1995 to form the only company specializing in dialysis technical products. RPC is located in Tucson, Arizona and Minneapolis, Minnesota.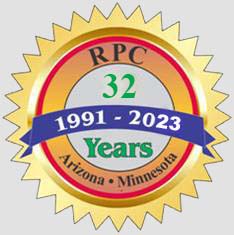 RPC is a leading innovator in products improving patient care quality and treatment outcomes. The company has multiple employees with 25 plus years of experience in dialysis. Employees are also AAMI and NANT members. The company holds an AAMI Corporate and RDD Committee membership, helping to establish high quality standards. RPC is well known for providing high level technical education and support to the dialysis community. Vern Taaffe has given multiple educational presentations focusing on different aspects of dialysis at dialysis national meetings and tradeshows.
RPC is a leading manufacturer of test strips for use in dialysis and manufactures many other products as well including QC Standard Solutions, BP cuffs, dialyzer port caps, sample ports, patient catheter protective pockets, catheter caps and recirculation connectors. The company offers hundreds of products worldwide for use in dialysis and other industries. Many of RPC's products have been designed by RPC because of specific customer requests. RPC's corporate goals are to become the dialysis industry's primary source for technical supplies and to provide the highest quality products at discount pricing.
RPC's trademarks and servicemarks include Micro-X®, Auto-Vent®, Sani-lok®, Name-Alert®, CathGuard™, CapKeeper®, E-Z Draw®, E-Z Chek®, E-Z Grip®, ProbeRite®, CalRite®, Accu-Read™, Certi-Chek™, Citra-Quik™, "Product Quality at Discount PricingSM", and "Savings – Solutions – SatisfactionSM".