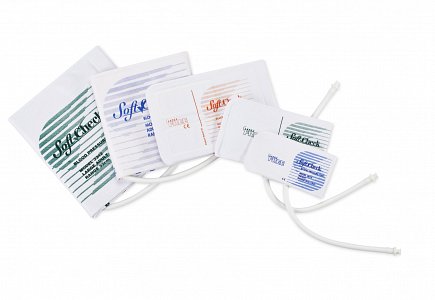 SoftCheck™ Disposable Cuffs
RPC's complete line of patient dedicated Blood Pressure Cuffs is manufactured with soft, yet durable coated materials. SoftCheck™ latex-free cuffs utilize a "hospital white" cloth fabric and integral bladder. The latex free cuffs are all made in accordance with the American Heart Association's recommended guidelines for accuracy determination and the AAMI standards for durability.
Infection control is a critical part of patient care. For very sick patients, the risk of patient to patient contamination is high with reusable BP cuffs. SoftCheck™ latex-free blood pressure cuffs promote single patient cuff use for blood pressure monitoring. Cuffs are color coded for easy cuff selection, and are available in a full range of sizes. Cuffs are designed for multiple inflations with strong and secure hook and loop attachments.
Product Features
Minimize patient to patient, cross-contamination
Priced to support single patient use
Softer and more comfortable material with tapered and rounded edges
Color coded for quick size selection
100% latex free
Product Listing