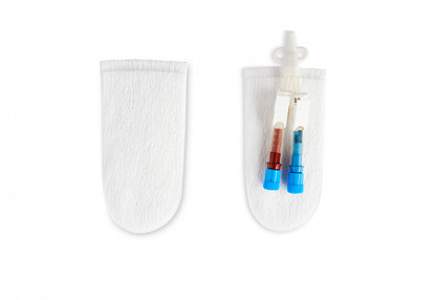 CathGuard™ Patient Catheter Protective Pocket
CathGuard™ is a unique, water-resistant, soft fabric pocket providing maximum patient comfort while protecting and storing the exterior lumen of the central line catheter between dialysis treatments. CathGuard™ helps immobilize the patient's catheter and may aid in reducing trauma to the catheter surgical insertion site. CathGuard™ also keeps the catheter clean, may help prevent infection, safeguards the integrity of the catheter caps, and presents a flatter, less-visible profile.
Protects patient and catheter. Soft, water-resistant fabric pocket.
Eliminates mess and fuss of dealing with tape and gauze.
Adhesive strips secure pocket to patient without discomfort on removal.
Saves staff time by simplifying patient off-dialysis procedure.
Easy-to-use: insert catheter; remove backing; attach to patient's skin.
Cost-effective, unique product. Well-liked by patients and staff.
7001-3920
CathGuard™ Patient Catheter Protective Pocket
100 per case