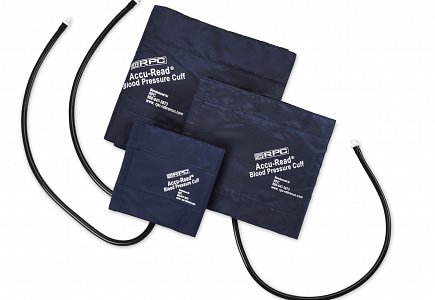 Accu-Read™ Reusable Blood Pressure Cuffs
RPC offers top quality, durable, latex-free, nylon blood pressure cuffs compatible with dialysis machine automated modules. These cuffs are priced significantly less than the dialysis machine manufacturer's. Each cuff assembly is complete with a single tube bladder and a female luer lock fitting. RPC's Accu-Read® cuffs are also available in double tube versions for use with wall manometers and aneroid sphygmomanometers.
Each latex-free cuff is quadruple stitched in critical areas for maximum strength. A strong but gentle nylon material provides optimum patient comfort while enduring repeated inflations and multiple use.
Product Features
Reusable Cuffs - Latex-Free
• Low cost / high quality alternative to using manufacturer's part.
• Generous hook & loop sizing assures a secure and snug fit.
• Dark blue color helps keep cuff looking new longer. Easy to clean.
• Superior resistance to chemical solutions used to clean cuffs.
• Manufactured to meet American Heart Association guidelines.
• Small, Regular, Large, & Thigh sizes for the adult patient. Easy to use.
Product Listing