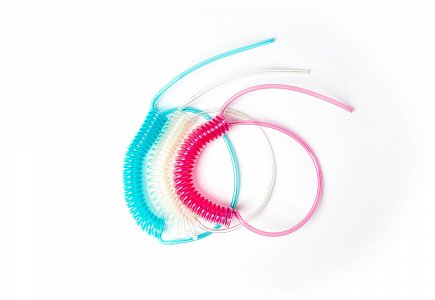 Spiral Coil Tubing
The retractable, self-storing nature of coiled tubes has led to their use as a component part in many different medical and non-medical applications. Some of the medical applications for which coiled tubes have been used include: blood pressure cuff tubing, surgical room pneumatic tools, pneumatic hospital beds, blood analysis equipment, oxygen therapy, vacuum tubing, and dialysis machine concentrate delivery lines. Polyurethane (PUR) coiled tubing is often preferred for these applications as it has outstanding memory (much better than PVC) and flexibility. PUR coils are extremely tough and resistant to abrasion, overstretching and kink damage. In addition, RPC PUR coils are easier to use.
Product Features
Excellent for use as retractable tubing for medical applications.
Superb flexibility and restorability.
Good temperature resistance.
Working pressure to 140 psi. Burst pressure of 420 psi.
Unique manufacturing gives better durability than other brands
Multiple colors (opaque & transparent): yellow, dark blue, red, etc.
Many sizes available. Call for details. Coiled tubing made from PVDF is also available.
Product Listing