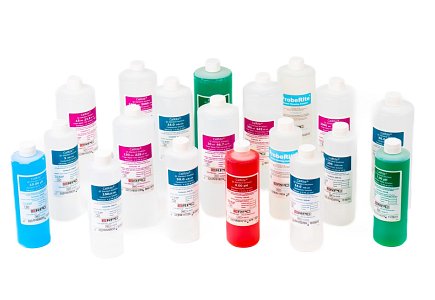 CalRite® QC Standard Solutions
RPC offers a line of high quality Standard Solutions that give a known value for use in checking the calibration or accuracy of testing devices. A wide range of Standard Solutions are available for use with conductivity, TDS, and pH testing devices.
Product Features
National Institute of Standards & Technology - compliant/traceable
90 day storage/expiration period for opened containers.
Multiple solution types are available to satisfy different QC needs.
Color-coded labeling helps prevent solutions mix-up & confusion.
Easy-to-use bottles, conveniently sized to minimize waste.
Save time & money by keeping test meters properly maintained.
Product Listing