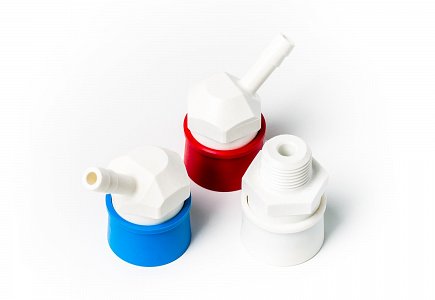 Dialyzer Dialysate Port Quick Disconnects
Rabrenco Scientific - Division of RPC initiated design and development of these connectors in early 1994. One of our goals was to make the connectors the best available for use in dialysis equipment. Factors we considered in the development of the connectors include:
Long term material compatibility with typical chemicals used in dialysis equipment including 3 - 4 % Renalin, 0.05 % sodium hypochlorite, 4 % aqeous formaldehyde and 0.8 % Diacide (gluteraldehyde).
Long term thermal dimensional stability if used in a water heat disinfect system (to 300 + degrees F).
Use of FDA listed food grade compatible materials of construction.
Excellent wear resistance for durability.
Elimination of any exposed metal parts and associated corrosion problems.
Secure, leak free fit with dialyzers
Ease of use
After several months of development and testing, RPC certified the connector as in conformance with the criteria listed above. We released the connectors and began manufacturing for sale in December of 1994. Many of these connectors have been purchased for use in dialysis equipment over the past several years. The connector has a proven track record as a high reliability connector for dialysis equipment.
Product Features
• Unique design provides a leak-free fit on all dialyzers.
• Corrosion-proof FDA-compliant plastic. No exposed metal parts.
• Permanently withstands all dialysis germicides and heat disinfection.
• Typically outlasts life of dialysis and dialyzer reprocessing equipment.
• One handed operation.
• Manufactured by RPC.
Product Listing