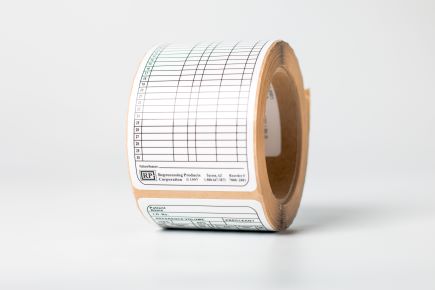 7000-2001
Dialyzer Labels & Bar Code Protectors
Dialyzer Labels - 30 Uses - White

| 100 per roll
RPC, a leader in dialyzer reprocessing solutions and supplies, manufactures a full line of dialyzer labels. Correct materials and properly designed labels/protectors are needed to assure a problem free dialyzer reprocessing program. RPC manual label stock comes with the option of 25 or 30 patient information lines, allowing for a single label to be used with even high reuse numbers. Extra fine point pens are part of the RPC product line. For automated systems, the bar code protectors assure clear reading of the bar code information. If labels are not protected, the information encoded cannot be read and recorded. Name alert labels represent a secondary reminder for patients with the same, or similar names.
Product Features
Easy-to-write-on surface saves time
Specially processed material and printing prevents errosion from germicides, etc.
Clear or white background gives you a choice for preferred visual inspection
Sized to avoid over-labeling
High quality/low price
Name Alert® Labels - Convenient means for alerting staff and patient to ensure name and other identifying information on the dialyzer label corresponds to a specific patient. Helps prevent similar-name dialyzer mix-ups. Allows compliance with AAMI/CMS requirements.
Pricing & Ordering
For product pricing or to order, please contact us below: