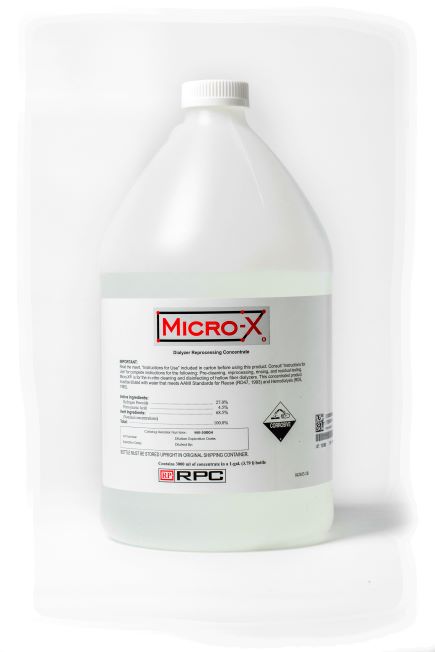 MX-30004
Micro-X® Cold Sterilant
Micro-X® Cold Sterilant

| 4 ea. 1 gallon bottles per case (3 liters in ea. bottle)
Simplify life, save time and save money, with one-stop shopping and unequaled technical support for your dialyzer reprocessing program. Dialysis professionals recognize RPC as the number one company for giving customers exceptional service and a high-quality family of cost-effective products for dialyzer reprocessing.
Minimize procedural changes in your dialysis center: Micro-X® has identical chemical properties and intended use as Renalin™. It also has U.S. Food & Drug Administration marketing clearance for use in all manual or automated reprocessing systems; e.g., Renatron, Renatron II, Maky, DRS-4, etc.
Product Features
One-stop shopping and unique reprocessing accessories (e.g., Auto-Vent®, Sani-Lok®)
Low price and high value. Free technical support.
Same proven peracetic acid formula in use for many years.
Expert support from our team of dialysis professionals...all methods of dialyzer reprocessing.
Fast (3 - 6 day) shipments to all areas of the United States. (3 RPC warehouses.)
FDA marketing clearance for automated & manual reprocessing systems.
Product Support
Pricing & Ordering
For product pricing or to order, please contact us below: