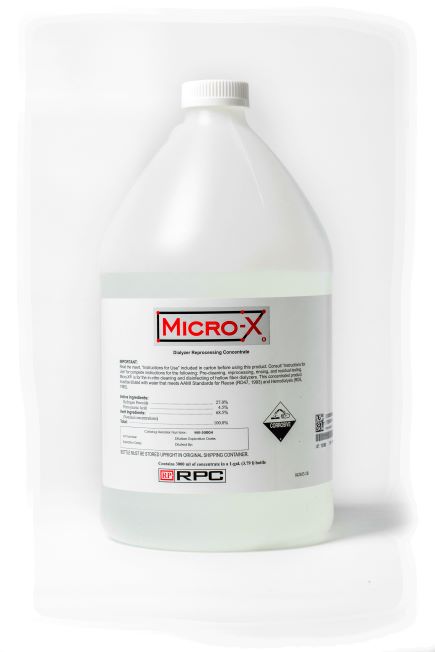 MX-30004
Micro-X® Peracetic Acid Water System Sanitizer
Micro-X® Cold Sterilant

| 4 ea. 1 gallon bottles per case (3 liters in ea. bottle)
Simplify life, save time and save money, with one-stop shopping and unequaled technical support for your dialyzer reprocessing program. Dialysis professionals recognize RPC as the Number One company for giving customers exceptional service and a high-quality family of cost-effective products for dialyzer reprocessing.
Minimize procedural changes in your dialysis center: Micro-X® has identical chemical properties and intended use as Renalin™. It also has U.S. Food & Drug Administration marketing clearance for use in all manual or automated reprocessing systems; e.g., Renatron, Renatron II, Maky, DRS-4, etc.
Product Features
Dilute 1 part to 99 parts AAMI Quality water (1%) for use in water system.
Efficacious: A 400 ppm peracetic acid solution has been reported to achieve a 6 log (1,000,000) reduction in difficult-to-kill bacteria in 36 min. Much faster than other disinfectants. Removes biofilm.
Fast rinse-up.
Compatible with most RO membranes and piping materials (1% solution). Do not use with brass, copper, and other heavy metals.
Product Support
Pricing & Ordering
For product pricing or to order, please contact us below: